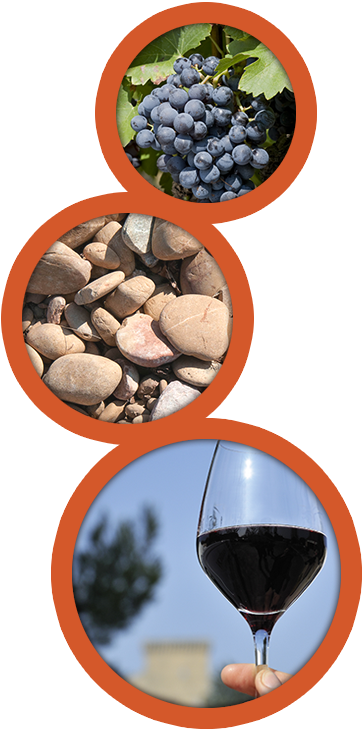 Red châteauneuf-du-Pape
'La Bégude des papes'
Soil
These parcels are mainly located on the North plateau but also on the four cardinal points.
"Bois dauphin, Tresquois, Terres blanches, Brusquières, Pied de baud, Moulin à vent, Galliguières, Colombis, Marines, Cansaud, Serres"
The soil is made up of limestone and clay with round pebbles.
The parcels are on average 55 years old
Cepages
70% grenache
15% mourvedre
12% syrah
3% cinsault
Vinification
After the harvest, the crop is sorted out manually and fully stemmed before 25 to 30 days of maceration in a temperature regulated concrete tank.
Aging process: 20% in barrels and half muid barrels and 80% in concrete tanks.
Production
Around 25000 to 30000 bottles per year.
Keeping / Aging
Up to 15 to 20 years.
Food-Wine pairings
Daube provençale, meat, cheese or even a chocolate cake.
WINE TASTING COMMENTS
2018
Aromas of kirsch, blackberry, blackcurrant and spices emerge from this wine.
Soft and seamless on the palate, it offers a concentrated liquor of red and blue fruits, a spicy cake as well as a delicacy and long and soft finishes.
Soft tannins have a sublime shape and grip.
2017
A deep dark color with shades of dark garnet red and slightly blueish hints.
The nose is slightly closed at first, then it opens up on notes of black cherry and dried figs.
Stirring liberates strong aromas of ripe blueberry, coffee, sweet vanilla as well as liquorice. The mouth is dense and sharp with particularly soft and enjoyable tannins.
This sensation of opulence remains all the way to the finish, soft and long on black fruit, black cherry and coco aromas. A nice cellar wine potential.
2016
Displaying a deep garnet red with a superb shine and shades that start evolving.
The nose demonstrates that vintage wine's great maturity, in a very open style, on aromas of dried flower, crushed strawberry, blueberry, cherry jam, plum brandy and soft spices.
The mouth is very generous, with an intense sensational sweetness and roundedness. The attack on the palate is very surprising with the plum brandy flavor. The many tannins easily find their place in this perfectly balanced wine. The finish uncovers roasted and vanilla notes alongside red fruit and marmelade.